Seizmik Vented Windshield (Double-Sided Poly) - 2014-2018 Polaris RZR XP 4 1000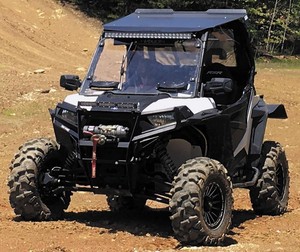 ---
New Seizmik Versa-Vent Windshield
Description:
This listing is for a Brand New Seizmik Versa-Vent Windshield for the UTV model(s) listed above. The Versa-Vent Windshield comes equipped with two cleverly designed vents, which lets the driver and the passenger independently control the amount and direction of airflow. The scoop on the front gathers air off the hood and re-directs it inside the vehicle, so even at slow speeds there is a surprising amount of air that comes through the vent. Scratch-resistant 0.22 in. polycarbonate windshield with innovative vents made of super-durable, glass-filled nylon. Vents designed with built-in defogging feature and gasket sealed against water intrusion. Fully adjustable easy-to-use louvers allow for variable airflow, including a defog mode. When placed in defog mode, the vent directs outside air onto the inside surface of the windshield to prevent fogging. • Double-sided, scratch-resistant polycarbonate windshield• Two super-durable, glass-filled nylon vents per windshield with built-in defogging• Automotive-grade, high-deflection bulb gasket around perimeter of windshield, sealed against water intrusion• Fully-adjustable, easy-to-use louver for variable airflow• Super-strong, low profile glass-filled nylon clamps do not interfere with accessories• Compatible with most roofs; requires factory header panel to install windshield• Trailerable up to 65 mph
Contact Us:Please contact us through with any questions you may have.
Availability:All items listed on are available for purchase in our dealership as well. We make every effort to ensure that items listed on are available. However, there can be a rare occasion in which we sell out of an item in our store before we can modify the listing. Therefore your shipment could be up to 2-3 days later than the estimated shipping date.
Shipping information:We ship with UPS. Once the item ships a UPS tracking number will be uploaded to the transaction for your viewing. The only international shipping we use is through the Global Shipping Program. These too will receive a tracking number once the item ships.
Return policy:Returns are permitted at the discretion of Honda of Russellville with prior approval. Return Authorization must be requested within 14 days of delivery. Once approved, the customer has the choice of an exchange or a refund.